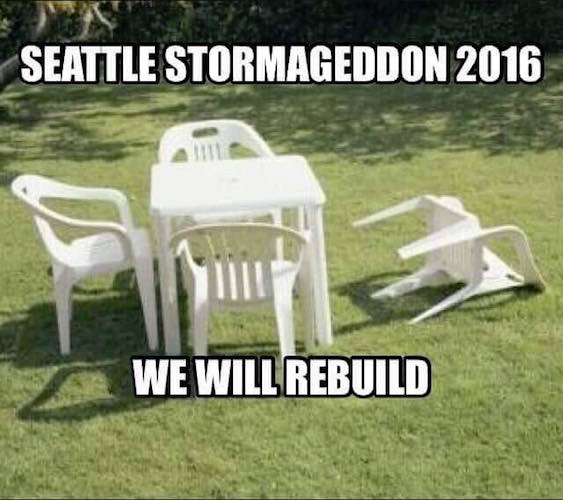 According to this past week's weather forecast, Seattle was supposed to get absolutely pummulled by an epic storm on Friday night into early Sunday morning. Biblical proportions. Sustained winds of 50 knots. Waves in Puget Sound topping off at 40-50 feet high. Stay indoors! Hide your children! Massive power outages! Employees getting out of work early to get home before it hits!
The image accompanying this post basically summarizes the severity of the weather that actually hit us. We got a little rain. It was a titch breezy.
As a non-weather aside, for those following along at home, I went shopping for a bridesmaid dress on Monday. In addition to buying a dress, I also purchased two pairs of jeans. Had it been swimsuit season, it could have been the ultimate trifecta of shopping I hate.
Okay, back to weather! Alas, I'm nervous that the inverse of this week's quote will come true. After the wee little storm we got, I'm predicting a week that is substantially less calm. We're starting a four-person, two-week project on Monday called bEtsy. Alas, it has nothing to do with an adorable cow wearing a sweet bell. It's an Etsy replica, and it's ridiculously complicated. Plus, did I mention it involves four people? That's going to add a whole new level of complexity when it comes to using git and merging code.
What makes me even more nervous is that this past week wasn't all that hard for me, so I'm coming off an easy week and going into one that will likely be incredibly challenging. I want my easy time back! Alas, that's not how the learning happens.