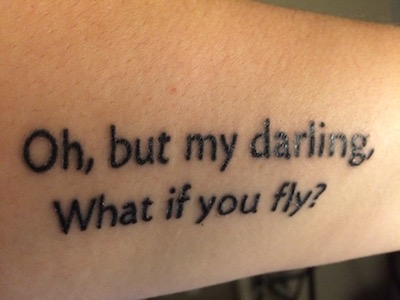 This has been a long week, coming back from vacation and diving straight into Rails. Today, though, I finally got what I consider to be my "admission to Ada" tattoo. I made this appointment when I first moved to Seattle, had to reschedule, and this was the day.
Someone on the Ada Slack channel recommended Two Birds Tattoo, an all-woman shop up in Ballard, and they were amazing. I saw Robyn, and her handiwork can be seen above. Originally, I was going to get the entire poem (see the quote to the left), but I ended up just going with the positive part.
Accepting my admission to Ada was a huge leap for me. And a terrifying one. The fear of failure, of falling, is strong with me. This serves as a constant reminder that I could end up flying. And how wonderful would that be!
This afternoon, I went to the house of some fellow Adies, to play games and beat the snot out of a pinata. It was the world's most durable pinata. Seriously - everyone there hit this thing at least three times, and it took having one of us, not blindfolded, being given 5 seconds to just pound on it to get it to crack open. As a reward, I took home some Cadbury milk chocolates. Tattoo and chocolates - a day well spent..